Your advantages with our robot for plastics processing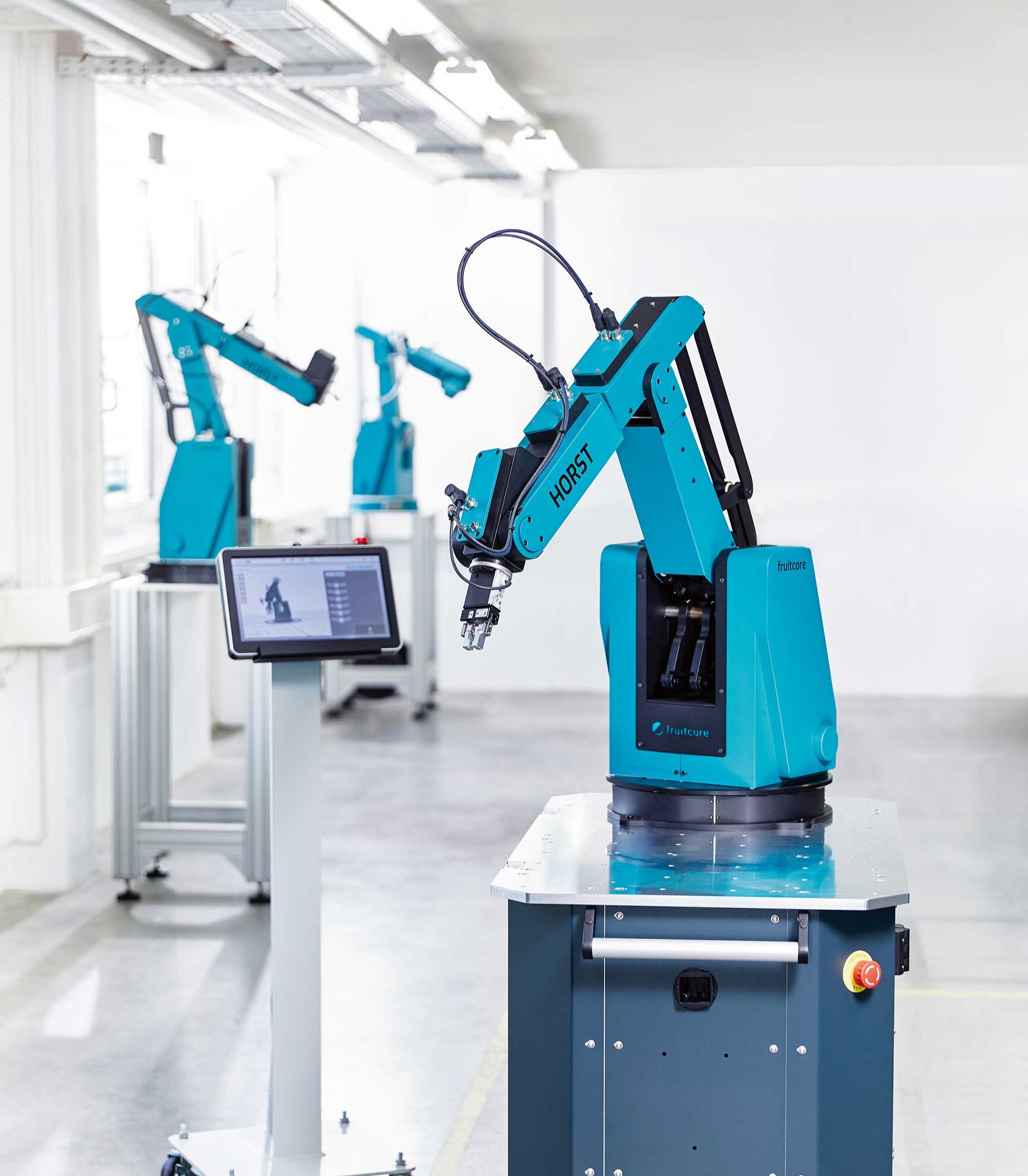 Precise: HORST has a repeatability of +/- 0.05 mm.
This is why HORST guarantees you the highest quality in plastics processing.


Smart: HORST has all the interfaces commonly used in the industry.
IoT—open interfaces for transferring programs, actuating external machines, and incorporating safety-relevant components.


Flexible: HORST is compact and flexible.


Maximization of efficiency, increase in quality, consistency, and speed of production.




Efficient: Produce safely and quickly with HORST.
Maximize efficiency, increase quality, consistency and production speed.


Simple: Your entry into automation.
Easy programming through horstFX - our intuitive robot software.


Affordable: HORST is worth its price.
HORST convinces users from all industries with its unbeatable price-performance ratio.
HORST - Your robot for plastics processing
From handling workpieces to testing parts—HORST is optimized for the plastics sector.
Industrial robot HORST is flexible and can be used for a wide range of applications in all branches of plastics and polymer production. Whether it is injection-molded, blow-formed, or thermoformed products, hybrid materials, or products for the medical field, HORST increases the efficiency of your production process while ensuring highest levels of precision. In polymer and plastics production, robots must be very flexible in order to cope with the conditions at hand, as they vary strongly in terms of processing and temperature depending on the material.
Thanks to quick and easy programming and the straightforward connection to external machines, the changeover times when converting production to new workpieces can be reduced to a minimum. This saves time and money! HORST is light, doesn't take up much space, is easy to handle, and is therefore suited for a wide range of tasks within the context of plastics and polymer production. Even for small batches and fast changeover times, HORST is the ideal partner for your automation.
HORST can also be used wherever your employees' safety is at risk, for example due to harmful gases that are released during the production of polymers or plastics, plastic shavings, or sharp objects.
Experience report: How our robot copes with plastics processing
In the application of CHRISTMANN Kunststofftechnik GmbH, industrial robot HORST is used in the production of fidget spinners. The prerequisite for the use of HORST was the low programming effort and the associated time and cost savings with maximum flexibility. Thus, due to the minimal changeover times, even small quantities of a serial product can be produced at market-driven costs.
HORST takes over even complex tasks and increases economic efficiency and productivity.
Have we aroused your interest?
Get in touch! Together we will find out which version of our industrial robot is best suited for your application.
Our robot performs these plastics processing tasks
Processing
Whether it is blow forming, injection molding, foaming, extruding, or compression molding, HORST performs a variety of tasks in plastics processing in interaction with external tools and components.
Palletizing
Whether your parts are large or small, HORST will carry them safely from A to B and palletize them reliably. After all, HORST is a master at palletizing.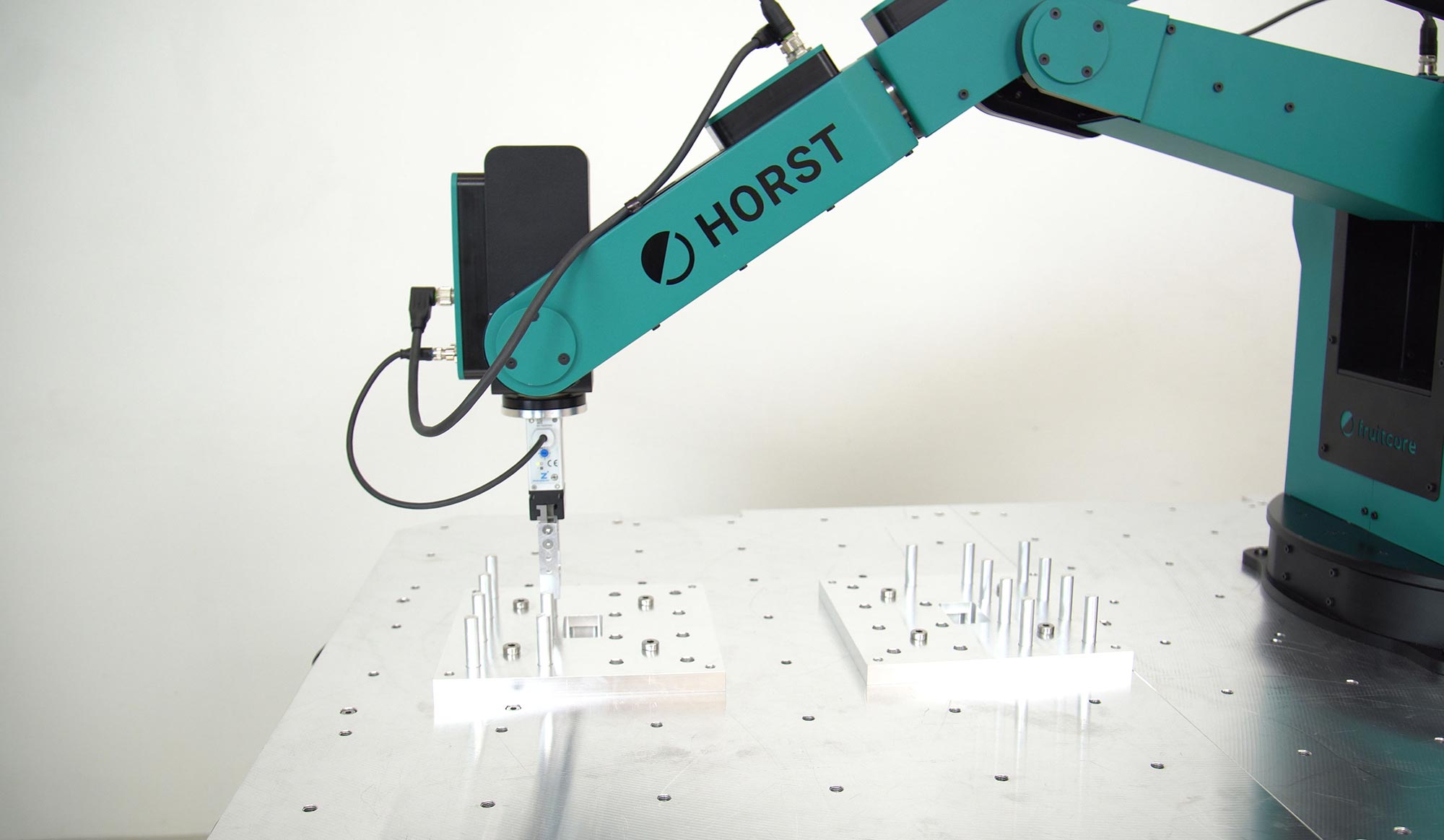 Testing
HORST is happy to test your parts and performs its tasks with great accuracy. Whether it is measuring, contact-free testing, or a simple OK/not OK test—HORST makes sure that your parts meet the required level of quality and thereby also ensures that the further production process goes smoothly.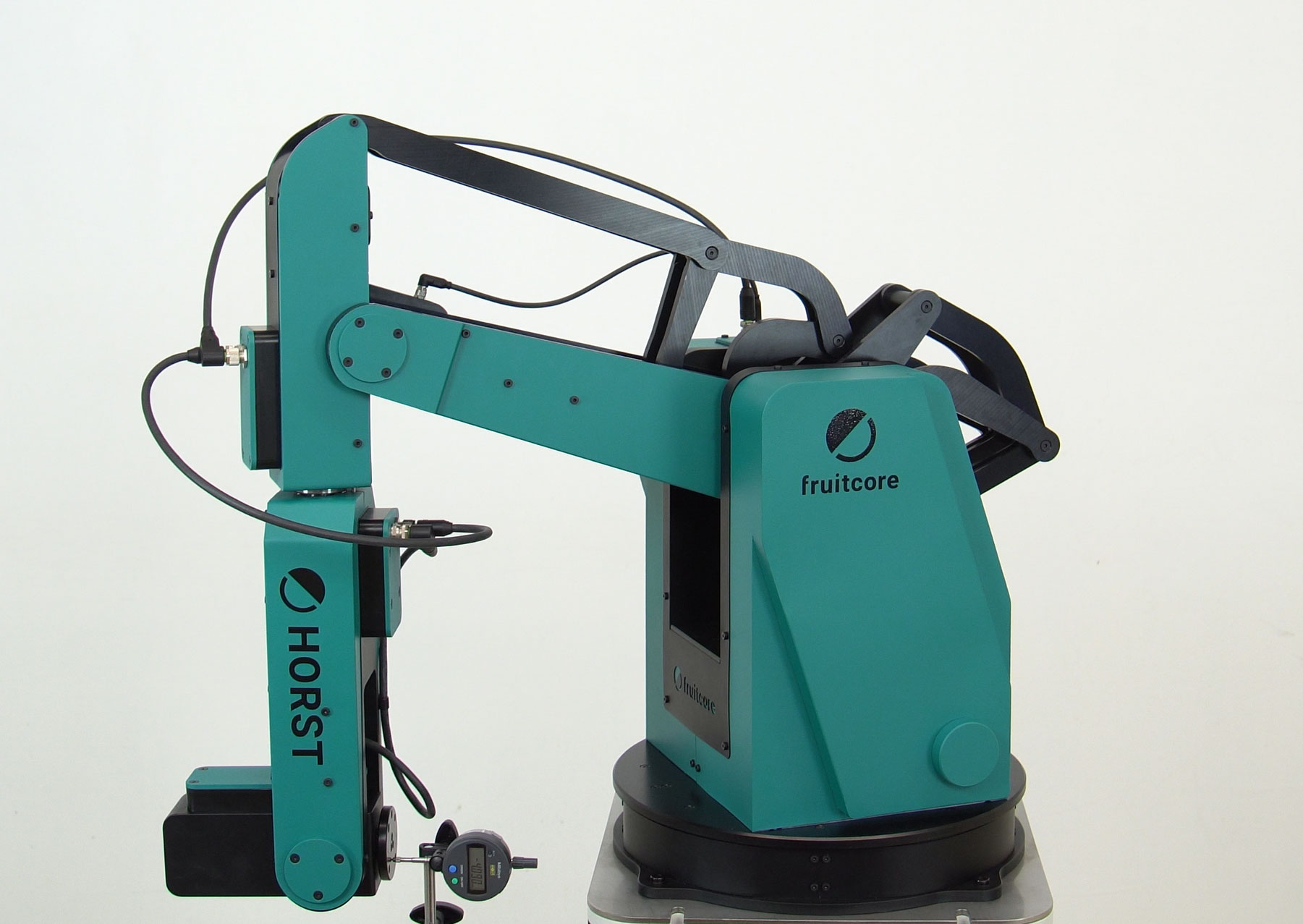 Feeding & Extracting
Be it fitting or extracting, HORST performs all tasks involved in handling parts in your production process tirelessly and with consistent quality. Thanks to horstCONTROL, the robot can be connected easily to the necessary grippers, suction cups, or other external machines.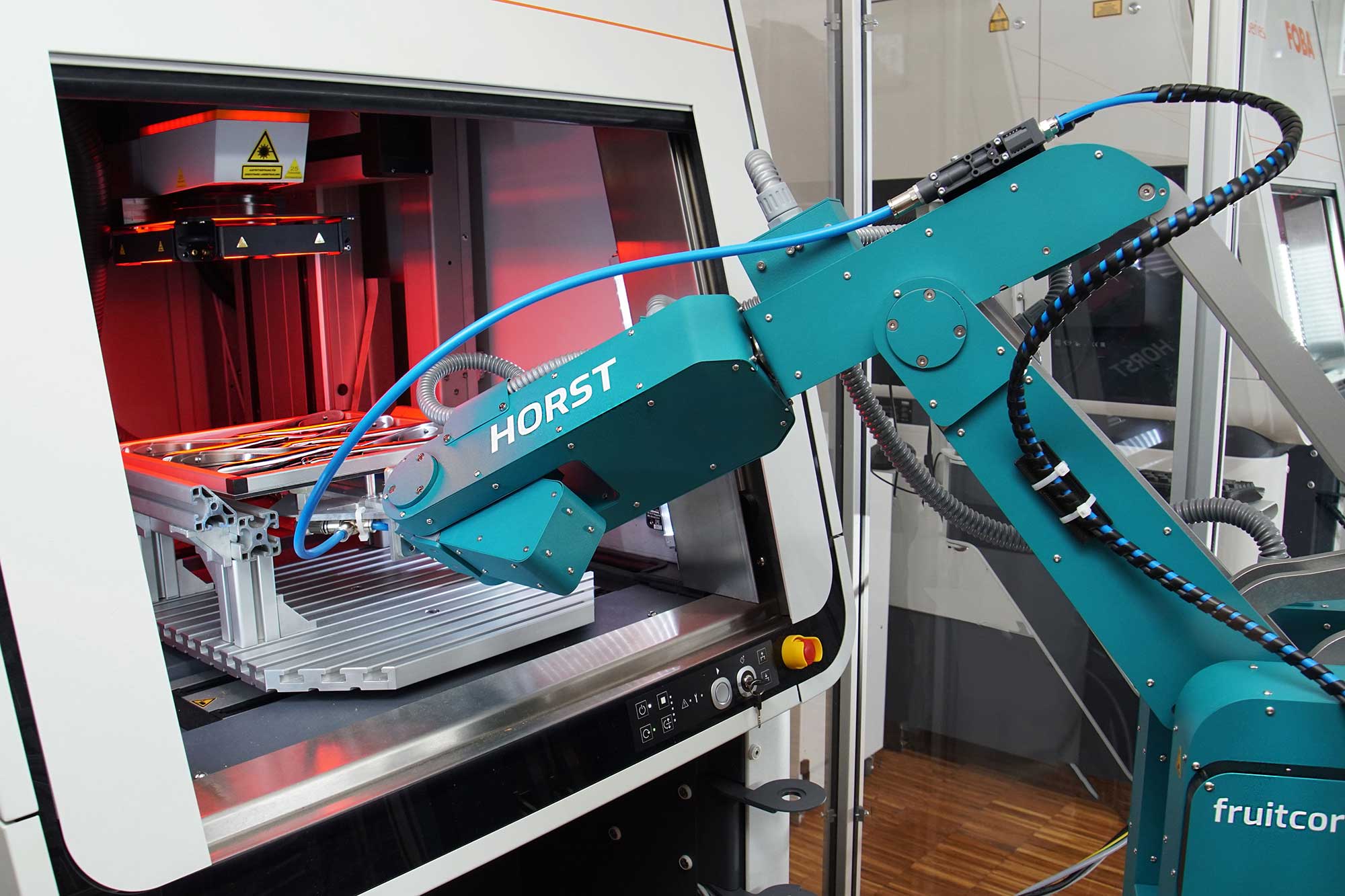 Sorting
Together with the vision system or parts separator, HORST can sort your unsorted parts reliably.
The industrial robot sorts your parts quickly and precisely.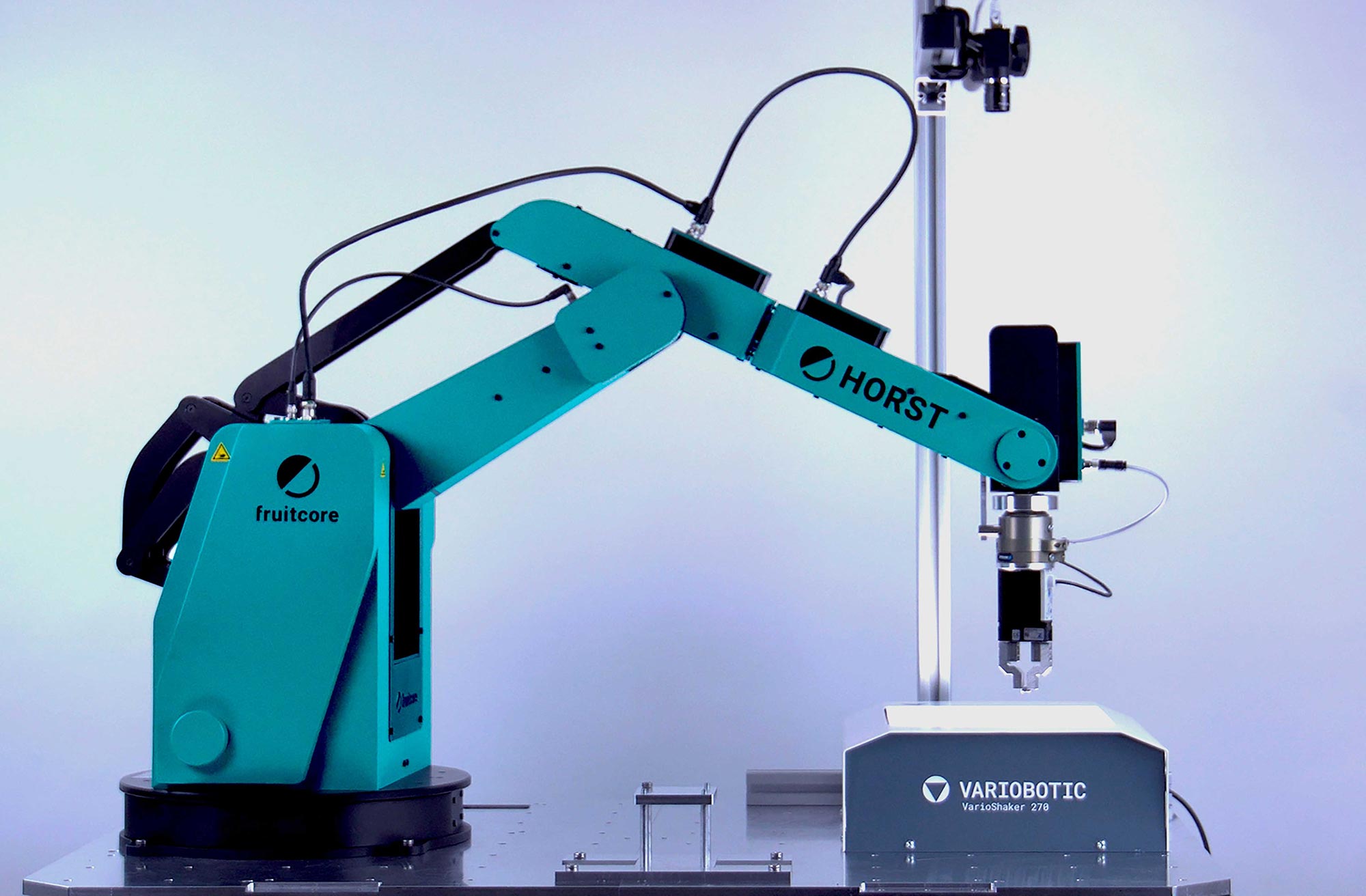 Our robot system is available in the following versions
Frequently asked questions about robots in plastics processing
Today, industrial robots are used in a wide range of sectors and applications.
They have also become firmly established in a variety of production processes in plastics processing and are responsible for fitting machines, sorting, palletizing, or testing, for example. HORST is flexible and can be used for a wide range of applications in all branches of plastics and polymer production, where it handles injection-molded, blow-formed, and thermoformed products, hybrid materials, or products for the medical field, for example.
Whether it is injection-molded, thermoformed, or blow-formed products, hybrid materials, or products for medical and pharmaceutical engineering, precision is an important prerequisite for working with an industrial robot. It is the linchpin for ensuring the quality of products in the production process.
Our 6-axis industrial robot HORST is extremely precise and features a repeat accuracy of +/- 0.05 mm. With HORST, you can increase the efficiency of your production process with the highest levels of precision.
The 6-axis industrial robot HORST is available in different versions and with different ranges and load capacities. It is an all-purpose robot that completes its assigned tasks with a high level of precision and reliability. HORST is also equipped with the intuitive horstFX software which makes programming the industrial robot seem like child's play. Complex sequences can be created in just a few minutes, no programming skills required! Thanks to the easy operation, high level of precision, flexibility, and the unique cost–benefit ratio, HORST is the industrial robot of your choice!
Determining the costs of an operational robot system requires that the specific requirements for the automation solution be known. This is the only way that all the components necessary to make your production process successful can be compiled. For example, if HORST is to sort or test parts, a camera system or parts separator may be required. Other peripheral components such as grippers or suction cups are also necessary components of a robot system and result in different costs. System engineering, project management, commissioning, actual operation, as well as servicing and maintenance are further cost factors that must be taken into account. Industrial robot HORST offers multiple cost advantages here. As compared to other robots for plastics engineering, HORST offers an unbeatable cost–benefit ratio. The intuitive programming that does not require any programming skills also offers advantages in terms of time and therefore costs. In addition, HORST is very economical and low-wear.