Your advantages in workpiece handling with our robot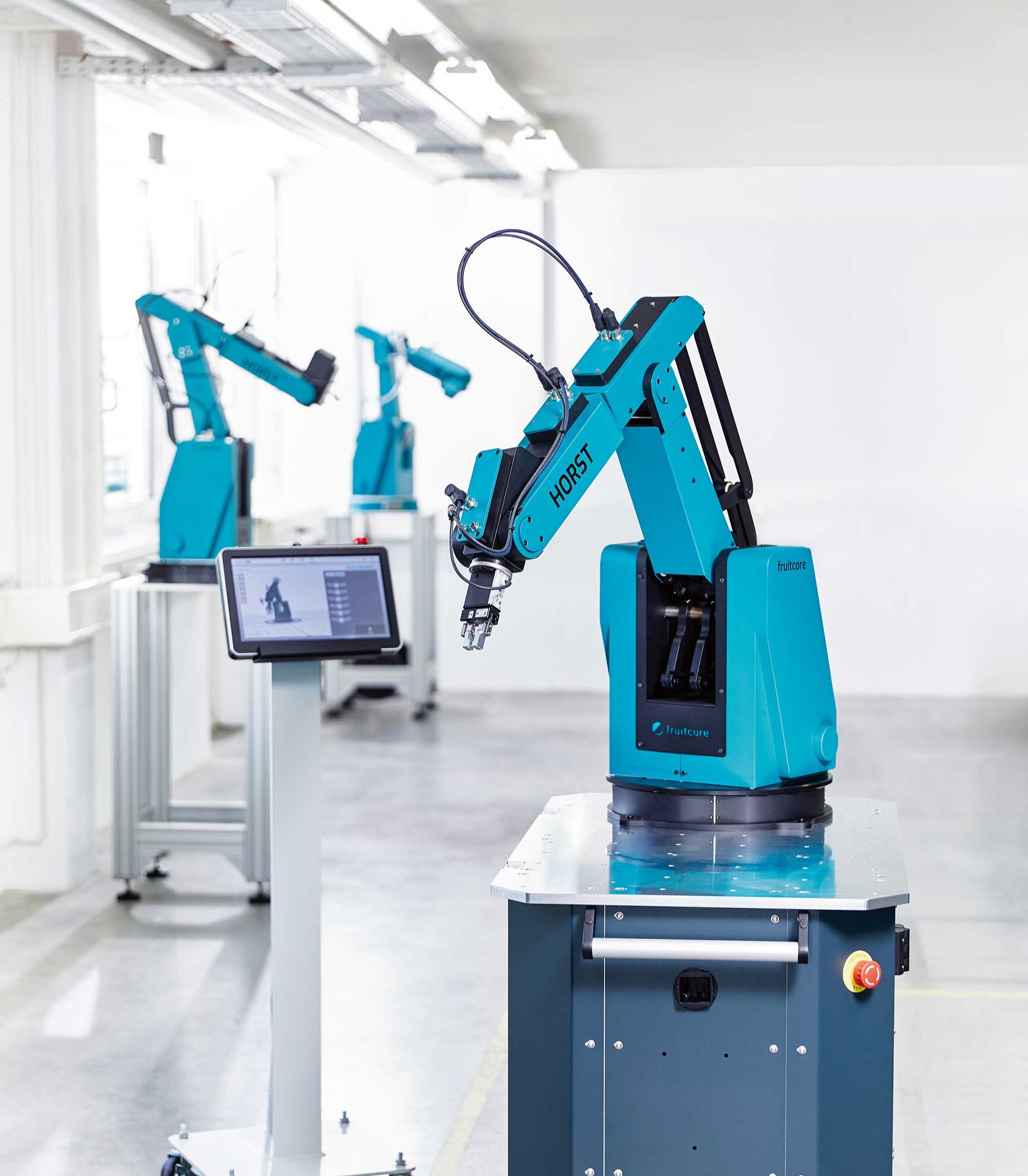 Simple: Easy programming, fast changeover times.
Our software horstFX provides you with a fast and simple
user interface for HORST.


Efficient: Produce safely and quickly with HORST.
Maximize efficiency, increase quality, consistency and
production speed.


Value for money: HORST is worth its price.
HORST convinces users from all industries with its
unbeatable price-performance ratio.


Flexible: HORST is compact and flexible.
With its simple programming, HORST guarantees fast changeover times, so changing production processes can be implemented quickly, easily and cost-effectively.


Precise: HORST has a repeatability of +/- 0.05 mm.
HORST can automate even the most delicate tasks
without any problems.


Smart: HORST has all interfaces commonly used in the industry.
Thus, HORST ensures transfer of programs, control of external machines and integration of safety-relevant components.

Industrial robot HORST - Your robot for workpiece handling
Fitting, assembling, screwing, palletizing, stacking, and packaging—HORST is an expert in all types of workpiece handling. All of these functions are taken into account in our industrial robot and its software. It's easy to adjust and easy to adapt depending on the application.
Industrial robot HORST ensures consistent quality and offers a flexible solution for every type of automation in the area of workpiece handling. Thanks to the compact design of the premium industrial robot, its great mobility, and various assembly options, it can be used in a great variety of scenarios.
The 6-axis industrial robot HORST from fruitcore robotics is characterized by its straightforward connection to external machines. In cooperation with a wide range of grippers, suction cups, dispensers, or optical image processing systems, it can perform a variety of automation tasks with ease and efficiency. HORST performs monotonous, dangerous, or physically strenuous tasks effortlessly, thereby reducing the risk of injury.
With the horstFX software, we placed our main focus on user-friendliness, whether it was for simple processes or highly complex applications. horstFX offers a quick and easy user interface for HORST. It was designed to be intuitive and convenient and was developed specially for touchscreens, and the included operating panel horstPANEL in particular. There are numerous applications that follow the same pattern. Features, for example for performing palletizing applications in just three steps, are also programmed as a preset and are immediately available for your application. We are continuously expanding the number of features for specific applications. You can also operate horstFX on your desktop using a mouse and keyboard, and transfer the created program to the robot. This way, you can enjoy all the possibilities.
The simplicity of the programming pays off with low setup costs and quick changeover times, especially in the production of alternating workpieces. HORST helps you to maximize the efficiency of your production, improve performance, and increase quality.
Experience report: How our robot copes with workpiece handling
Imm Cleaning Solutions GmbH has been operating in the field of industrial contact-free cleaning technology for more than 20 years. When searching for a flexible robot solution for various pick-and-place and cleaning applications, the company decided on industrial robot HORST.
At Imm Cleaning Solutions GmbH, industrial robot HORST automates the milling and cleaning processes.
Imm Cleaning Solutions uses HORST in the production of rotary nozzles so as to take some of the burden off of its employees and ensure economically efficient production. The inexpensive and easy-to-program industrial robot fits the CNC milling machine and cleans the machined parts at a cleaning station developed by Imm Cleaning Solutions GmbH.
Interested?
Get in touch! Together we will find out which version of our industrial robot is best suited for your application.
Our robot performs these workpiece handling tasks
Fitting. Extracting.
Piece by piece by piece, HORST fits and extracts all kinds of parts tirelessly and positions them accurately, exactly where they are needed.
The compact horstCONTROL features all common interfaces and allows the straightforward connection of external machines.
This enables HORST to perform all pick-and-place tasks in next to no time.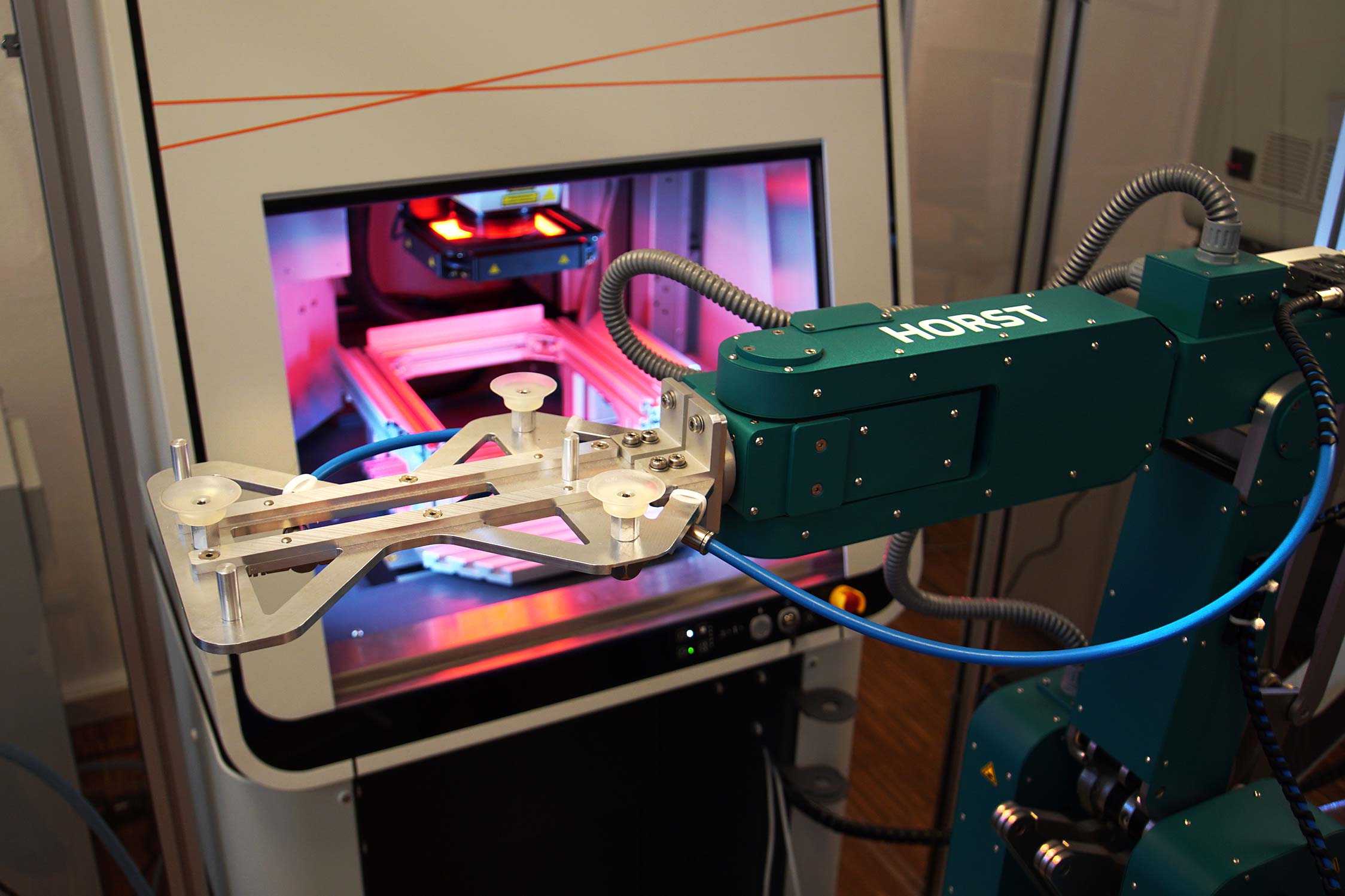 Sorting.
HORST brings order into chaos. With external components like the vision system and parts separator, HORST can pick up and sort your unsorted parts quickly and precisely. In doing so, HORST increases the level of efficiency in your production process reliably and tirelessly.
Testing.
Whether it is measuring, contact-free testing, or a simple OK/not OK test—HORST makes checking your parts easy and ensures consistent quality in your automation process. This way, inaccurate or inadequate parts can be sorted out reliably and interruptions in the production process can be prevented.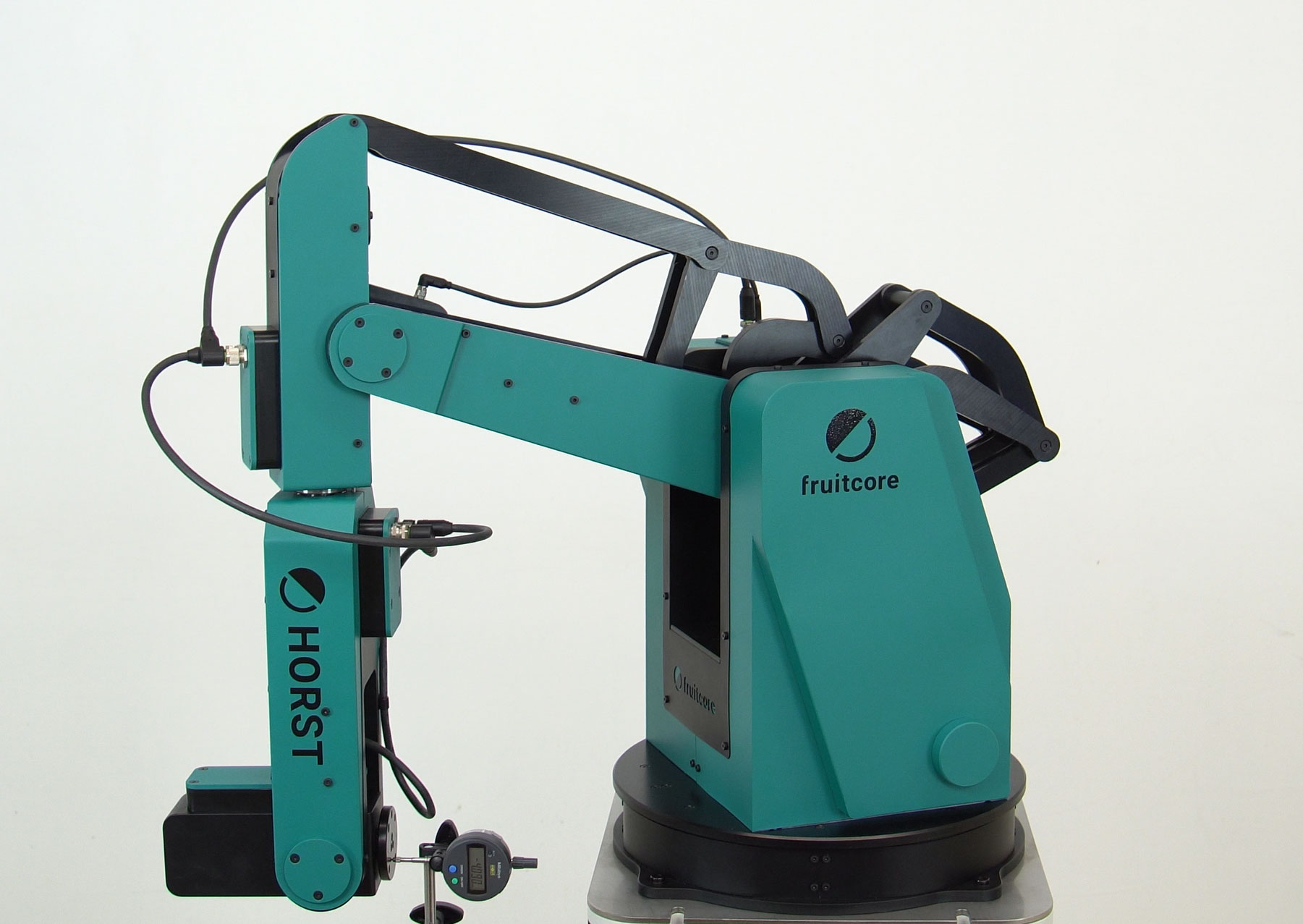 Assembling. Screwing.
Precise positioning is a matter of course for our industrial robot. With a repeat accuracy of 0.05 mm, HORST assembles and screws on your parts with extremely high accuracy. In doing so, HORST helps to maximize efficiency and increase the quality, consistency, and speed of production.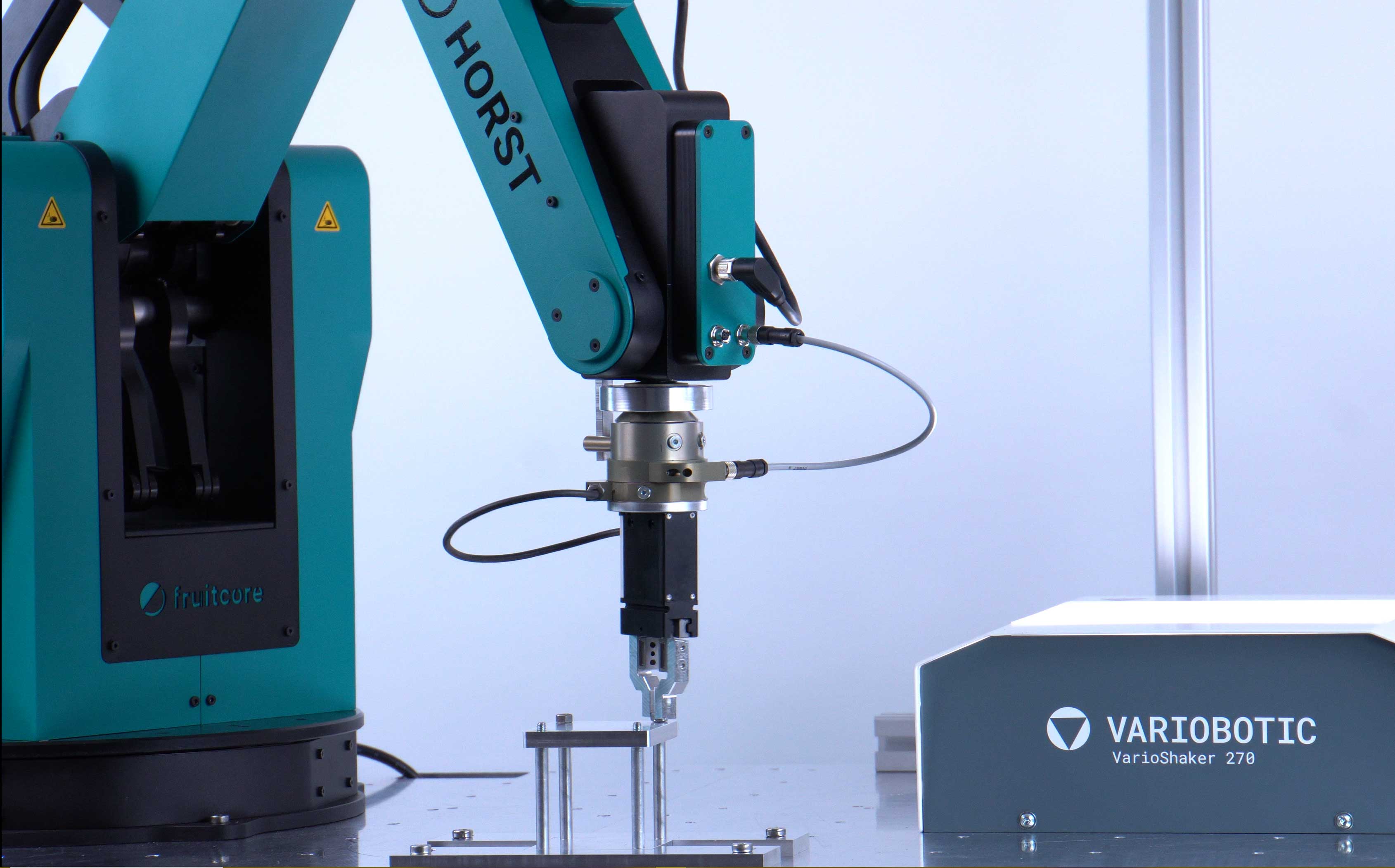 Palletizing. Stacking. Packaging.
HORST is a master at palletizing, stacking, and packaging. No matter how large or small your part may be, HORST will safely carry your parts from A to B, stack them reliably and accurately, and package them as necessary.
Our horstFX software makes operation easy for you.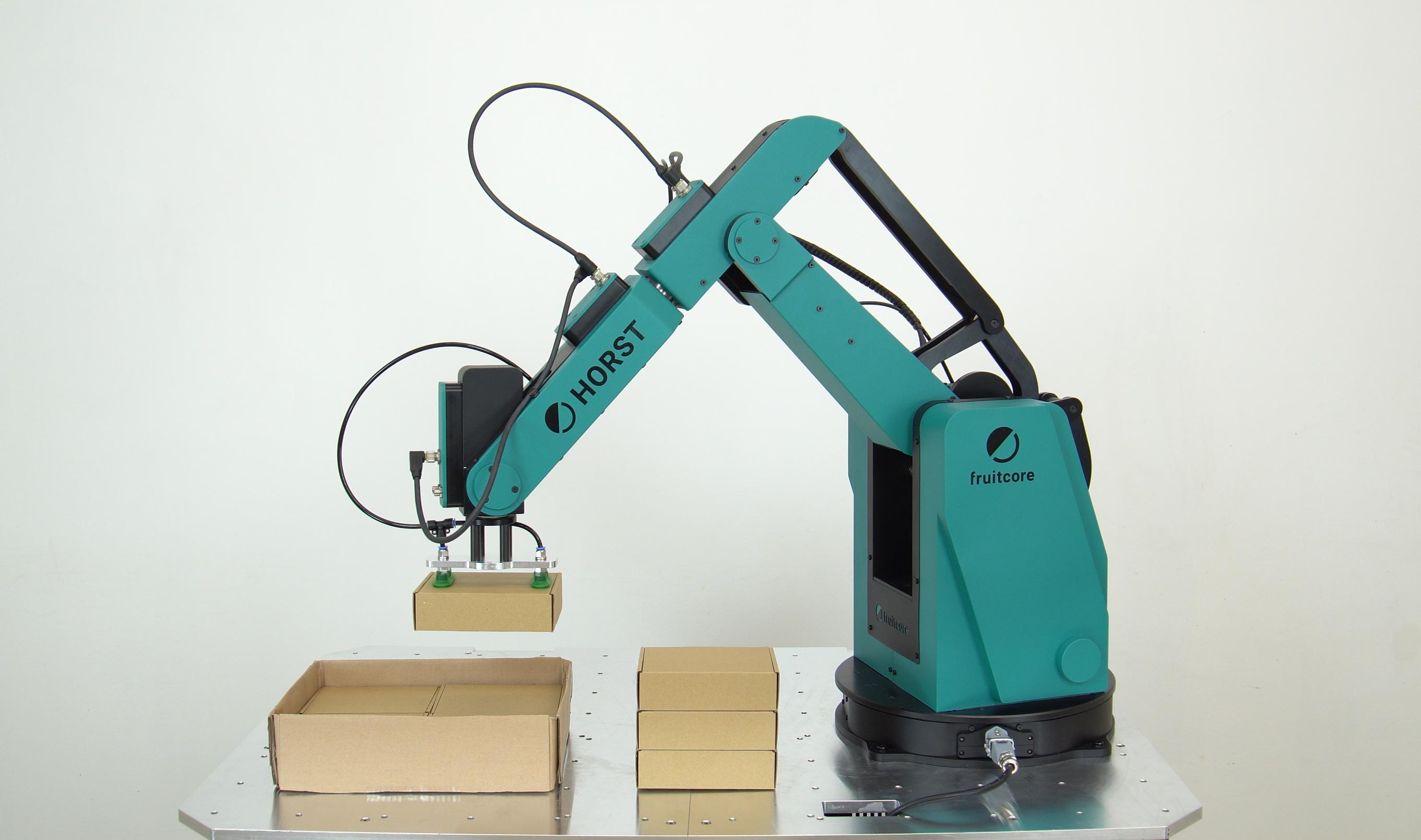 Our robot system is available in the following versions
Frequently asked questions about robots in workpiece handling
Robots are used with increasing frequency in the industrial context in order to maximize efficiency and increase quality, consistency, and production speed. This also applies to workpiece handling. Robots are used for a variety of tasks in workpiece handling. For example, they can fit, extract, palletize, stack, assemble, screw, or package in an automation process. The fields of application are as versatile as the industrial robot itself.
A number of requirements must be fulfilled in order to work with a robot efficiently in workpiece handling. For example, a straightforward connection to external machines and components should be ensured. HORST features all common interfaces and allows the straightforward connection of external machines to horstCONTROL, which is part of the robot system. In order to keep the changeover times to a minimum when producing different parts, programming the robot must be quick and easy. With the horstFX software, which was developed specially for HORST, we placed our main focus on precisely this user-friendliness. HORST can be programmed with ease and in less than 30 min via the touchpad that is part of the system. No programming skills required.
Accuracy also plays a significant part in an automation process. After all, it guarantees consistent quality. With a repeat accuracy of +/- 0.05 mm, HORST is extremely accurate and performs all tasks effortlessly.
With HORST, fruitcore robotics has created a flexible complete robot system that can be used anywhere. In terms of operation, we attached great importance to user-friendliness. For example, HORST can be programmed easily and without programming skills via the horstFX software and horstPANEL, the accompanying operating panel, in less than 30 min per application. The HORST product range offers different ranges and can therefore be used for requirements of any kind.
HORST is made in Germany and is a very high-quality product. And yet, it is considerably less expensive than comparable robot systems due to its innovative kinematics.
The simplicity of programming and the unique cost–benefit ratio make it easy and affordable to get started with automation.
The costs of a complete robot system vary depending on the requirements for the application to be automated. Generally speaking, the overall costs are made up of the robot itself and the peripherals, i.e. add-on parts such as grippers, suction cups, or external tools. Additional expenses include system engineering, project management, commissioning, actual operation, as well as servicing and maintenance.
HORST offers many cost advantages. For one, the innovative kinematics and the associated drive system allow us to use standard drives and therefore do without costly special solutions that are installed in many competitors' products. HORST can thus offer an unbeatable cost–benefit ratio. In addition, HORST features extremely user-friendly operation. Programming is quick and easy and requires no programming skills. This saves time and therefore money during commissioning and changeover. HORST is low-wear and economical even in ongoing operation.
Industrial robots are the perfect partner for any type of workpiece handling, be it fitting, assembling, screwing, palletizing, stacking, or packaging.
Thanks to their repeat accuracy and continuity, industrial robots can be used very efficiently in automation solutions and guarantee consistently high levels of quality. 6-axis industrial robot HORST is also an expert in workpiece handling.